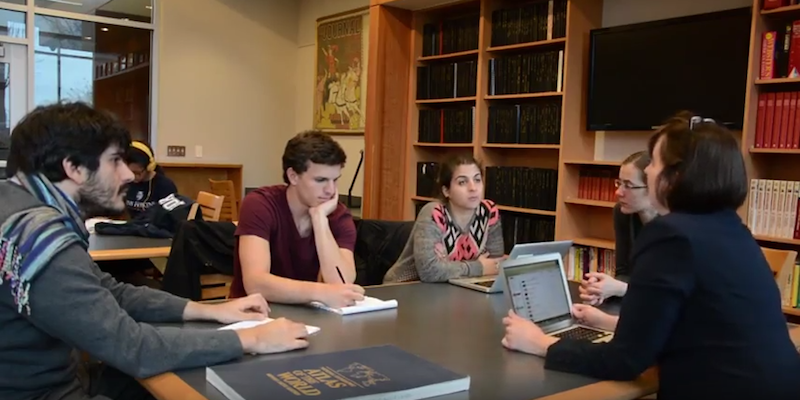 My FIA seed grant was a fabulous crash course in the future of academia. This blog post is about what I learned on the way to creating ResearchIQ, a dashboard prototype to show the impact of research funding in traditional media, academic publications, and social media. The seed grant experience changed my entire orientation to academia.
Traditional academics specialize in narrow areas, digging deep within the troughs of knowledge. This knowledge is typically shared within small, relatively closed groups and deliberation takes place in seminars, classrooms, or the corridors of universities. In the digital age, information is created and shared across large networks almost instantaneously. This changes the dynamic of knowledge creation. In particular, it creates new opportunities – and challenges – for traditional academics.
I was happy in my trough, which is studying the effect of the media on democracy, but I looked up and saw the bright lights of the possibilities. The FIA seed grant program offered me the opportunity to try out a new way of doing research and creating knowledge. I particularly liked the idea that I would be working to solve a problem or need for one of the FIA partners.
When I listened to the pitches from the FIA partners, I was particularly attracted to the challenge posed by National Geographic. Every year, National Geographic funds a range of research projects. But what impact were these projects making in the realm of science – and in the minds of the public? It's an intriguing question, not just for National Geographic, but for all institutions that fund research. Also, it resonated with my own research, which is particularly interested in how ideas are disseminated and received in the traditional and social media.
We assembled a team, blending undergraduate and graduate students from Journalism, the iSchool, and Engineering. I signed on as the academic mentor and quickly started to learn a lot of things about the Brave New World of academia, namely:
Buckle up. Traditional academic projects move at a stately pace; collaborative projects that are tasked with solving a problem in six months move very quickly indeed. A large part of me enjoyed this, particularly as I used to be a journalist and had a life as an adrenaline junkie. But it meant that I had to keep an eye on the clock and not indulge in as many intellectual tangents as I typically might.
When you are a professor running a project with students, it is easy to fall into the role of classroom instructor. Avoid this. To get the best out of the team, you need to make sure they feel the same sense of urgency and responsibility for delivering the project. This means making sure that students take on tasks for which they are individually responsible early in the project. The students amazed me and really stepped up to solve critical problems. The students on the project were Zahra Ashktorab (iSchool), Nicholas Duchesne (Journalism), Amir Kashanipour (Mechanical Engineering), and Joanna Nurmis (Journalism).
You will need to use your best communication skills – both broadcasting and receiving. One of the toughest things about working with scholars and students in other disciplines is that each discipline has a lot of linguistic conventions and shortcuts, a sort of 'insider' code. It's important that you don't use jargon and that you really explain what you mean. This means taking a deep breath and explaining things such as qualitative content analysis in a way that is useful to an engineer. It also means saying what it easy and what is very challenging – I had no idea it is so hard to clean data from social-media feeds, for example. I had to learn to say, "I don't know what you are talking about" and "is this even possible?"
A six-month multi-disciplinary project that you start from scratch will not be a polished gem. This is hard for a traditional academic, whose reputation rests on the ability to be 'the' authority on a given topic, to accept. To paraphrase the first Star Trek series, "It's knowledge, Jim, but not as we know it." But accepting that breakthroughs can be messy and imperfect is really key – although ResearchIQ was not a polished final application, it still was an innovative and unique way of presenting research impact.
For me, FIA was a boot camp in how academics can thrive in the modern information sphere. We created something unique and useful. It changed how I thought about doing work as an academic. It made me realize how much you can learn from other disciplines, if you listen and aren't afraid to abandon your role as the so-called authoritative professor.
In particular, I am more attracted than ever to the idea of combining a thirst for general knowledge with an orientation toward solving an information puzzle. The real challenge is leveraging my 'academic' expertise on how media and audiences function in democracies to go beyond just studying the phenomenon and get stakeholders (such as media organizations and governments) involved in making democracy better.
Along with Prof. Wendy Moe in the Smith School, I am currently designing a dashboard that shows how the way in which Hillary Clinton and Donald Trump talk about issues in the 2016 campaign is reflected in traditional and social media. The UMD ADVANCE seed grant program funds this project. Without FIA, I would not have had the skills, mindset, or toolkit to tackle a project like this – or to be formulating more plans to harness my research on media framing into information visualizations that will be of potential use to media organizations, governments, and citizens alike.
And I can't really imagine ever being happy in my little trough again.
---
"Research Impact Quotient (Research IQ): Designing a Dashboard to Track How Grant Funding Translates into Knowledge" was one of the winning teams in the 2013-2014 FIA-Deutsch Seed Grant Competition and a short summary and video of the project can be found here.