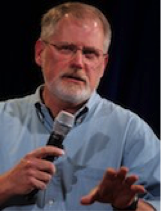 Dan Russell, Google's own guru of "user happiness," gave a campus talk about his new book "The Joy of Search: A Google Insiders's Guide to Going Beyond the Basics" on September 26, 2019. Dan has been leading search workshops here at Maryland for years. He maintains a blog with periodic search challenges called Search/Research. He also has a free online course, Power Searching with Google. And now he is coming here to talk about the book he has just written with his best tips — including step-by-step examples — that can improve your search skills and enhance your critical thinking about the search process.
---
From the description of The Joy of Search on Amazon:
We all know how to look up something online by typing words into a search engine. We do this so often that we have made the most famous search engine a verb: we Google it―"Japan population" or "Nobel Peace Prize" or "poison ivy" or whatever we want to know. But knowing how to Google something doesn't make us search experts; there's much more we can do to access the massive collective knowledge available online. In The Joy of Search, Daniel Russell shows us how to be great online researchers. We don't have to be computer geeks or a scholar searching out obscure facts; we just need to know some basic methods. Russell demonstrates these methods with step-by-step searches for answers to a series of intriguing questions―from "what is the wrong side of a towel?" to "what is the most likely way you will die?" Along the way, readers will discover essential tools for effective online searches―and learn some fascinating facts and interesting stories.
Russell explains how to frame search queries so they will yield information and describes the best ways to use such resources as Google Earth, Google Scholar, Wikipedia, and Wikimedia. He shows when to put search terms in double quotes, how to use the operator (*), why metadata is important, and how to triangulate information from multiple sources. By the end of this engaging journey of discovering, readers will have the definitive answer to why the best online searches involve more than typing a few words into Google.
---
This program was organized by the University of Maryland's Future of Information Alliance and the University of Maryland Libraries in collaboration with these sponsors:
The Andrew and Julie Klingenstein Family Fund
Google
… and from the University of Maryland:
Philip Merrill College of Journalism
The iSchool – Maryland's College of Information Studies
College of Behavioral & Social Sciences
College of Arts & Humanities
Office of the Provost
Office of the Vice President for Research
University Libraries
If you are interested in supporting FIA programs and activities, you may do so at http://go.umd.edu/fiasupport.