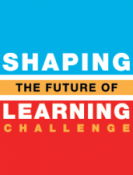 December 5-6, 2014
Barrie School, Silver Spring, MD
Over 130 learners and designers of all ages spent two days shaping and designing the future of learning. Congratulations to Team Learners on winning for their prototype model of a Google Glass-augmented 3D-printed animal dissection lab!
#FIAumd #ShapeLearning
Hosted by the Barrie School and led by the Future of Information Alliance, the Library of Congress, the National Geographic Society, the National Park Service, and the Newseum.
December 5, 2014
The event kicked off with a transdisciplinary dialogue led by Future-ists, followed by a poster and demo session where FIA partners showcased the work they are doing in this area.
Future-ists in order of appearance:
December 6, 2014
Educators, technologists, and learners of all ages — adults and young people — competed in a Design Challenge to help shape the future of learning. 12 teams of kids and adults created low-tech prototypes, videos, mock-ups for software, websites to demonstrate their ideas. Congratulations to Team Learners on winning for their prototype model of a Google Glass-augmented 3D-printed animal dissection lab!
Everyone received a baseball hat. The four semi-finalist teams won prize buckets filled with Newseum tickets, a Sesame DVD set, KID Museum tickets, UMD sweatshirts, Google t-shirts and hats, and more! Each person on the grand prize team received a Nexus 7 tablet and a Google messenger bag. We also raffled off an 11″ Chromebook, a moto 360, and lots more!
The goals for the weekend included:
Bringing together and further developing a community of people who care about and want to have an impact on the future of learning
Being a catalyst for new ideas, prototypes, tools, guidelines to be highlighted and used in learning communities around Maryland even after the event occurs
Highlighting how technology could be used in and outside of classrooms with all different ways people of all ages learn
---
We Remember Tim Schaffer
Tim Schaffer (1972-2014) led the collaboration between the Future of Information Alliance and the Barrie School — from bringing students to events to facilitating seed grant projects. Donations were collected in his memory to be used towards new technology for the Barrie School and to continue this connection for years to come.