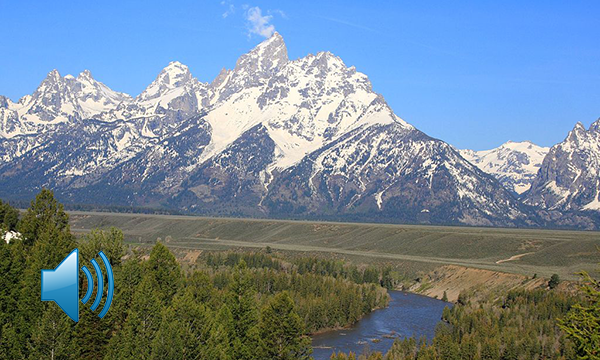 Photo by Frank Kovalchek / CC BY 2.0 / Cropped from original; audio icon added
Just like fresh air and clean water, natural sound is an important resource that the NPS works to protect. Natural soundscapes provide opportunities to experience the serene beauty of nature. They are also essential for wildlife that use natural sounds to establish territory, find mates, nurture and protect young, and find predators or prey. More information can be found at www.nature.nps.gov/sound_night.
The National Park Service, a FIA partner, is using a roadside noise meter to help visitors to the Grant Teton National Park better understand the noise their vehicles make and the impact it can have on the park.
Visitors to Grand Teton National Park may notice a new roadside noise meter over the next few weeks. The display provides real-time sound level measurements and is part of the park's noise reduction program which addresses noise from a variety of sources: vehicles and local traffic; construction work; maintenance activities (garbage collection and road work); transportation (tour buses and delivery trucks); and other park operations. In addition to the noise meter, park entrance stations and visitor centers are providing visitors with information about how to minimize impacts from their vehicles.
Source: "Soundscape Awareness Efforts Underway with Temporary Roadside Noise Meters," National Park Service News Release, August 10, 2015.