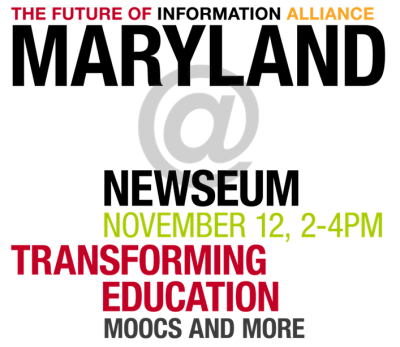 held concurrently at
UMD's Riggs Alumni Center & the Newseum
Will MOOCs help colleges and universities wrestle with tight budgets? Will they help families face rising tuitions? Or will this innovation prove dangerously disruptive?
This panel was held concurrently by videoconferencing at UMD's Riggs Alumni Center in College Park and at the Newseum in Washington, D.C. It featured FIA "Future-ists" who have lead the way in offering MOOCs and who provided insightful commentary on them.
FIA's "Future-ist in Residence" served as the panel's moderator:
Dan Russell, is a "search anthropologist" who is known as Google's "director of user happiness" and has been involved with the Future of Information Alliance since its inception. He offered a popular MOOC over the summer and launched a second MOOC this fall.
Three FIA "Visiting Future-ists" shared their ideas and experiences:
Anant Agarwal, is president of the not-for-profit edX, launched by Harvard and MIT to offer MOOCs and to study their potential. He is also a professor of Electrical Engineering and Computer Science at MIT.
Peter Struck, is an award-winning scholar and teacher in the University of Pennsylvania's Department of Classical Studies. He teaches a MOOC on Greek and Roman Mythology through Coursera, which has offerings from professors at dozens of universities worldwide.
Kevin Carey, is director of the Education Policy Program at the New America Foundation and has written about MOOCs for the Chronicle of Higher Education.
Four UMD and Newseum leaders also took part:
Wallace Loh, President of the University of Maryland, will open the program.
James C. Duff, the Newseum's chief executive officer and the president and CEO of the Freedom Forum, will welcome the speakers and audience.
Patrick O'Shea, Vice President and Chief Research Officer at the University of Maryland, will moderate the program at the UMD location.
Jane Clark, Dean of UMD's School of Public Health, chairs a campus commission tasked exploring MOOCs and other innovations online education. She will respond to the presentations, after which the program will be opened up for a conversation between panelists and attendees.
---
This program was made possible with generous support from the Robert W. Deutsch Foundation, the Newseum, and the University of Maryland.
The Future of Information Alliance was created to serve as a catalyst for dialogue across disciplines and to promote research on issues related to the evolving role of information in our lives. By identifying shared challenges and encouraging innovative solutions, the Future of Information Alliance seeks to facilitate a future in which information in all its forms can be an effective resource for all.
The Future of Information Alliance is co-directed by Professor Allison Druin of Maryland's iSchool and by Ira Chinoy, Associate Dean and Associate Professor in Maryland's Philip Merrill College of Journalism. The FIA operates under the auspices of the Office of the Vice President for Research and is supported by the deans of all colleges and schools across campus, a broad-based campus advisory board, and 10 Founding Partners.