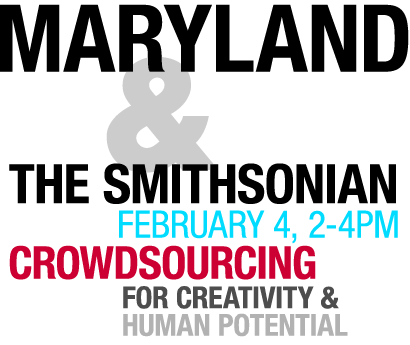 held at Orem Alumi Hall, Riggs Alumni Center
University of Maryland, College Park
Crowdsourcing has become a critical component of today's emerging information technologies and practices. Innovators are using it to respond to natural disasters, call attention to human rights abuses, and harness the combined potential of people all over the world in both creative and scholarly ways. But are there also barriers that keep crowdsourcing from being as effective as it might be? What kinds of research might be done to overcome those barriers and lead to even more effective action?
The Future of Information Alliance, (FIA) based at the University of Maryland, presented a program on February 4, 2013 that explored both the opportunities and challenges associated with crowdsourcing. The FIA was created to serve as a catalyst for dialogue across disciplines and to promote research on issues related to the evolving role of information in our lives.
The program featured three new FIA "Visiting Future-ists":
Craig Newmark, the founder of craigslist, launched craigconnects in 2011 as a platform for extending the reach of technology and social networking for philanthropy, public service and the public good. He is a technology advisor to more than a dozen non-profits and government agencies and serves on the boards of directors of the Center for Public Integrity, the Sunlight Foundation, Consumers Union/Consumer Reports, and Iraq and Afghanistan Veterans of America.
Jennifer Chan, MD, MPH, is director of Global Emergency Medicine at Northwestern University's Feinberg School of Medicine and associate faculty and member of the Crisis Dynamics Program at the Harvard Humanitarian Initiative. In addition to being a practitioner of emergency medicine who has been involved in disaster relief efforts in Haiti and elsewhere, she is involved in using, evaluating and improving crowdsourced crisis mapping tools such as Ushahidi.
Sam Gregory, is Program Director and leads the Cameras Everywhere initiative at WITNESS, a non-profit co-founded by musician Peter Gabriel to use video and participatory technologies to expose human rights abuses. He helped launch the YouTube Human Rights Channel and the ObscuraCam and InformaCam tools. He is an adjunct lecturer at the Harvard Kennedy School, was a Rockfeller Foundation Bellagio Resident on the future of video-based advocacy, and was named a Young Global Leader of the World Economic Forum in 2012.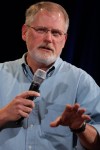 In addition, Dan Russell, Google's "director of user happiness" who has been involved with the FIA since its inception, is FIA's "Future-ist in Residence" and participated in the program on Feb. 4. He and UMD Computer Science Professor Ben Bederson, an expert in human-computer interaction and mobile technology, demonstrated a tool for crowdsourcing.
The panel was moderated by Sheri Parks, Associate Dean for Research, Interdisciplinary Scholarship and Programming in UMD's College of Arts and Humanities and Associate Professor of American Studies. Dr. Parks is also a cultural critic for WYPR, the NPR radio station in Baltimore
---
This program was made possible with generous support from the Robert W. Deutsch Foundation, and the University of Maryland.
The Future of Information Alliance was created to serve as a catalyst for dialogue across disciplines and to promote research on issues related to the evolving role of information in our lives. By identifying shared challenges and encouraging innovative solutions, the Future of Information Alliance seeks to facilitate a future in which information in all its forms can be an effective resource for all.
The Future of Information Alliance is co-directed by Professor Allison Druin of Maryland's iSchool and by Ira Chinoy, Associate Dean and Associate Professor in Maryland's Philip Merrill College of Journalism. The FIA operates under the auspices of the Office of the Vice President for Research and is supported by the deans of all colleges and schools across campus, a broad-based campus advisory board, and 10 Founding Partners.